WARM AMBER by HAMZA LABBAN PERFUMES opulent aromas of cinnamon bark, amber, seductive rose flowers and spicy saffron while announcing an irresistible mixture of caramel and patchouli in the heart. The base ensures sensual softness with vanilla flavors, which is blended with precious woody chords, amber and ambroxan, which ensures longevity and warmth of the fragrance.
TOP NOTES: Amber, Pepper, Warm Spicy HEART NOTES: Caramel, Vanilla BASE NOTES: Musk, Rose, Woody
Concentration: Eau De Parfum Gender: Unisex Size: 90ml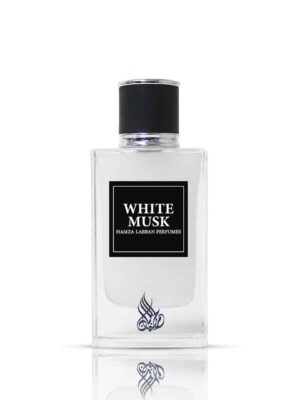 WHITE MUSK by HAMZA LABBAN PERFUMES is an oriental perfume featuring sweet and soft white musk scents, This fragrance is ideal for every occasion!
TOP NOTES: White Musk HEART NOTES: White Musk BASE NOTES: White Musk
Concentration: Eau De Parfum Gender: Unisex Size: 90ml